(*)Joint Annual Meeting ISMRM-ESMRMB 2018, Paris Expo P…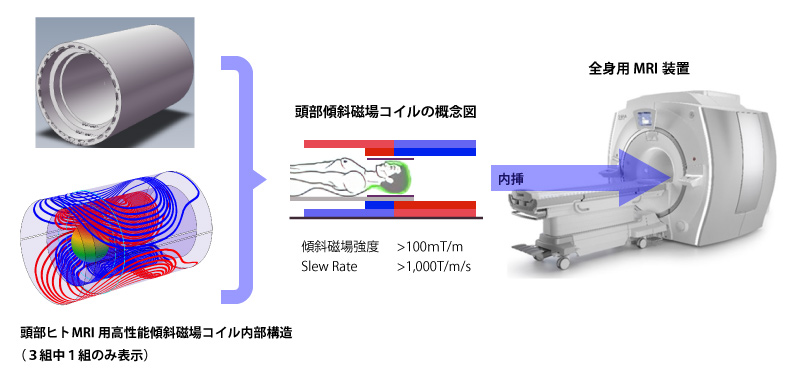 The components of an MRI system
MRI scanners vary in size and shape, and some newer models have a greater degree of openness around the sides. Still, the basic design is the same,but the components are improving and liquid Helium problem is now overcome.
High Temperature Superconducting (HTS) magnet can support to get MRI without liquid Helium, which is now decreasing in volume and elevating in price. This machine operates at 20 K.
Most of MRI usage for examining brain disease, which is important in the clinical practice as well as neuroscience.
We provide complete helium free MRI for head imaging system with 3.0T aiming to be environmentally and socially sustainable.
Specifications
Specify for head imaging reduces the gantry diameter smaller than the conventional body scanner, with higher resolution,compared to conventional body scanner. The gradient coil itself has high capability (slew rate 1000 T/m/s, magnetic strength 100 mT/m) compared to conventional gradient coils (slew rate 150 T/m/s, magnetic strength 50mT/m).
High scalability
HTS-magnet has high electric current efficiency, which makes higher static magnetic field, e.g., 7T, easily compared to Niobium-Titanium. 7T with Niobium-Titanium magnet will be the limit for operating with regard to electric characteristics of Niobium-Titanium. HTS-magnet has an ability to achieve 9.4T, which has been verified in NMR of 20T.
Easy to use
We provide head only scanner, which is small and not space occupying machine. In case of clinical practice or scientific research, the machine is easy to install in a small space.
Future new idea products
In the future, MRI will be movable on the car to examine the brain disease with electric supply car. This might be helpful for the disastrous accident area or difficult to access area examination.

Increase the gradient coil performance, we can get the images for equivalent images of expensive high performance gradient coil with reasonable price.

Brain and heart is tightly connected, and already realized the imaging of the brain concomitant with heart image. MRI should have the similar power to examine the patients. We can plan to provide such MRI.
Company Name
Kyoto Future Medical Instruments Inc.
Date of Establishment
May 19, 2015
Head Office
15, Shimogamo-morimoto-cho, Sakyo-ku, Kyoto
Scope of Business

Manufacture, sales and lease of medical equipment.
Sales and lease of imported medical equipment.
R&D, analysis and evaluation of medical equipment.
Technical and consulting services for medical equipment.
Property management: Leasing, buying and selling real estate

Contact Address
Kyoto Future Medical Instruments Inc.
Research Institute for Production Development,
15 Shimogamo-morimoto-cho, Sakyo-ku,
Kyoto 606-0805 JAPAN

Phone / Fax: +81-75-724-5355
E-mail: info@kfmi.jp
| | |
| --- | --- |
| President CEO | Hidenao Fukuyama |
| Board Director | Michihisa Kyotoh |
| Board Director / General Manager | Eiji Itoh |
| Board Director | Kazuhiko Hayashi |
| Auditor | Yasuo Matsuda |
| Technical Advisor | Hector Sanchez Lopez |