We updated our website.​…
We updated our website.​…
High performance gradient coil for head MRI was deliver…
(*)Joint Annual Meeting ISMRM-ESMRMB 2018, Paris Expo P…
Design and fabrication of high-performance gradient magnetic field coils for brain MRI
MRI has many types of size, shape, and bore size, and various improvements have been made, but the basic structure is the same. More than half of the uses of MRI are in clinical use for diagnosing brain diseases and in neuroscience for elucidating the structure and function of the brain. We are designing and manufacturing high-performance gradient coils that realize high-resolution brain image.
Design of various pulse coils
A gradient coil is a kind of pulse coil. Utilizing this pulse coil design technology, we are working to expand its application to transcranial magnetic stimulation (TMS) treatment coils, which are used to treat depression, and electromagnetic forming technology, a type of metal processing method.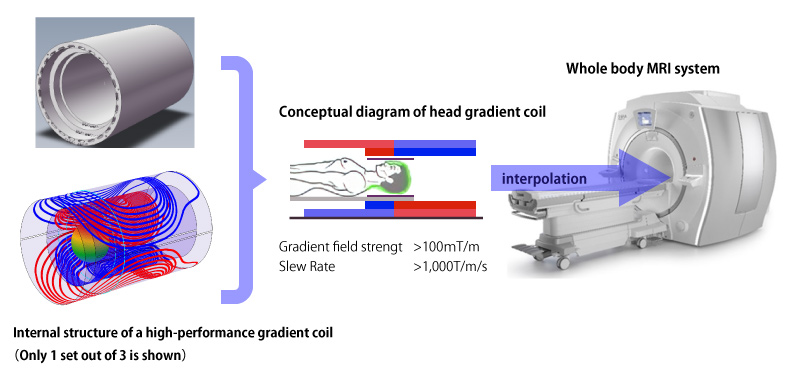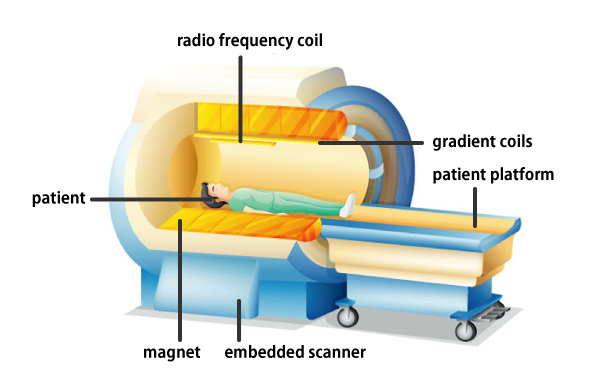 Characteristics of High Performance Gradient Coils for Human Brain MRI
A gradient coil dedicated to the human brain can achieve high resolution with a small diameter.
Compared to the slew rate of 150T/m/s and gradient field strength of 50mT/m of the conventional gradient coil, it has the performance of 1,000T/m/s or more and 100mT/ m or more.
Easy to use
It is possible to take high-resolution brain images by inserting it into an existing whole-body MRI without increasing the static magnetic field strength.
Next deployment
Utilizing the pulse coil design technology developed in the design and production of gradient coils, we aim to expand applications to TMS coils used for depression treatment, electromagnetic shaping, which is a new metal processing technology and so on.
Company Name
Kyoto Future Medical Instruments Inc.
Date of Establishment
May 19, 2015
Head Office
15, Shimogamo-morimoto-cho, Sakyo-ku, Kyoto
Scope of Business

Manufacture, sales and lease of medical equipment.
Sales and lease of imported medical equipment.
R&D, analysis and evaluation of medical equipment.
Technical and consulting services for medical equipment.
Manufacture, sales and lease of electromagnetic equipment.
R&D, analysis and evaluation of electromagnetic equipment.
Technical and consulting services for electromagnetic equipment.
Technical and consulting services for superconductivity related technology.
Property management: Leasing, buying and selling real estate

Contact Address
Kyoto Future Medical Instruments Inc.
Research Institute for Production Development,
15 Shimogamo-morimoto-cho, Sakyo-ku,
Kyoto 606-0805 JAPAN

Phone / Fax: +81-75-724-5355
E-mail: info@kfmi.jp
| | |
| --- | --- |
| President CEO | Hidenao Fukuyama |
| Board Director | Michihisa Kyotoh |
| Board Director | Eiji Itoh |
| Board Director | Kazuhiko Hayashi |
| Auditor | Yasuo Matsuda |
| Technical Advisor | Hector Sanchez Lopez |